Luggage for a New Era of Riding
I often look at change and dig my heels in. "I've done it this way forever, why change now?" I am pretty sure that I am not alone in this approach.
I lost a close friend in an avalanche in Northern British Columbia in 2009. Ever since, I've worn my avalanche pack on every ride, regardless of terrain and conditions. 5 years ago, my riding partner Scott and I made a significant shift in how we play in the backcountry. We moved from sleds to bikes. This change brought with it a new appreciation for a different style of riding, and a colossal shift in the terrain we explore.
Gone are my days of large, open faces with massive slabs of snow that may or may not decide to cut loose. We are dedicated tree riders. In our opinion, tight, technical trees is where a snowbike really shines. We've come to know our riding area well, have GPS'd the area extensively, and we review and explore new areas via Topographical maps prior to riding. If the terrain looks ugly, we don't go.
Change Can Be Good
When Scott made the move from backpack to Giant Loop bike mounted luggage, I dug my heels in. Not going to happen. We chatted about it, and I was prodded a bit to take a critical look at where we ride. Thick, mature trees, relatively flat terrain with no open Alpine terrain looming above. I started to ask myself some tough questions.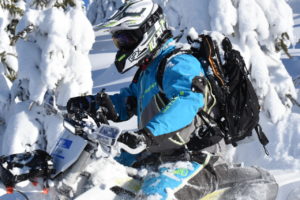 Packing everything I felt I needed into one backpack lead to lots of extra weight, reduced maneuverability, extra body heat and early onset fatigue.
My Avalanche pack was tipping the scales at close to 30 lbs, and the extra weight did a couple of things. It tired me out more quickly than my pack-less riding partner, and it trapped heat, which lead to sweat. Early onset of fatigue leads to a shorter day, and often poor decision making. As for the sweat, well, I don't think I need to explain the negative effects of a sweaty body on a cold day.
New Tools, Better Ride
When riding our regular haunts, our avalanche packs stay in the trailer these days, with our backcountry essentials packed into our Giant Loop Fender Bags, Mojave Saddlebags and Torngat Tunnel Bags. I return to the truck dry at the end of the day, and have noticed a significant increase in overall energy levels throughout the day.
When we hit the backcountry, we come armed to have a great day, and to get back to the truck in one piece, should something go wrong. We pack the gear to do basic fixes on the mountain, stay in contact with people in town, and stay somewhat comfortable should we have to do some impromptu camping.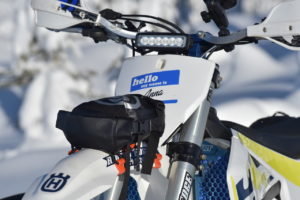 The Fender Bag is a great place to store extra gloves. Easy access, for quick changes.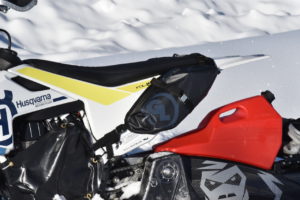 We run the Mojave Saddlebags on snow and dirt. They are a great solution for packing safety gear, food, water, etc.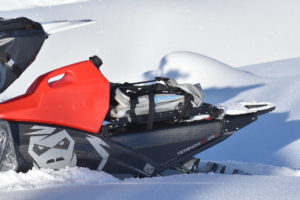 Shovel, probe, saw, extra clothes, and the kitchen sink is what we pack into our Torngat Tunnel Bag!
While I do still see great value in an Avalanche Pack in certain terrain and conditions, I also see the potential downside to it. Know your area, plan your day before you go and pack accordingly.
Interested in exploring packing options for your next trip to the backcountry? Check out Giant Loop's offerings.
~ Contributing Author Andrew Thompson, Vernon Snow MX